Get all Rajasthan Government Jobs Notifications Sarkari Naukri In Rajasthan | Raj Govt Jobs- Sarkari Result 2023 – Govt Jobs in Rajasthan – Check all latest upcoming Sarkari Naukri In Rajasthan. These are in High Court, Police, SI, Patwari, Teacher and RVUNL. Rajasthan Govt Jobs 2023 for 8th pass, 10th pass, 12th pass & Graduate. New vacancy notification of Rajasthan sarkari naukri bharti 75000 Government Jobs in Rajasthan 2023 : भर्तियों की विज्ञप्ति जल्द जारी Sarkari Naukri In Rajasthan Online Applications of recently released Govt Jobs
75000 Government Jobs in Rajasthan 2023 : भर्तियों की विज्ञप्ति जल्द जारी
The government is serious about timely completion of 75 thousand recruitment of different departments announced in the budget this year. On Friday, the government gave this information on twitter account of CMO Rajasthan. It said that the government has so far given appointments to more than 20,000 posts in a period of just 10 months. The priority of the Government is to address the problem of rising unemployment. 75 thousand posts are being recruited. Chief Minister Ashok Gehlot had announced recruitment to 75 thousand posts in the state government budget presented in July.
Rajasthan Govt Jobs Latest Update :
युवाओं के लिए 75 हजार भर्तियों की घोषणा Recruitment was to be in so many posts in these departments
4646 in Department of Revenue,
4000 in Agriculture,
21600 in Department of Education,
750 in Cooperatives,
800 in DoIT,
15000 in Medical,
1000 in Higher Education,
1500 in Skills and Employment,
1474 in Forest,
4000 in Home,
9000 in Energy,
1400 in PHED,
1341 in PWD,
2000 in WRD , recruitments were announced in
5160 in rural development Panchayati Raj,
104 in transport, 250 in social justice empowerment,
300 in women empowerment and
269 posts in medical education.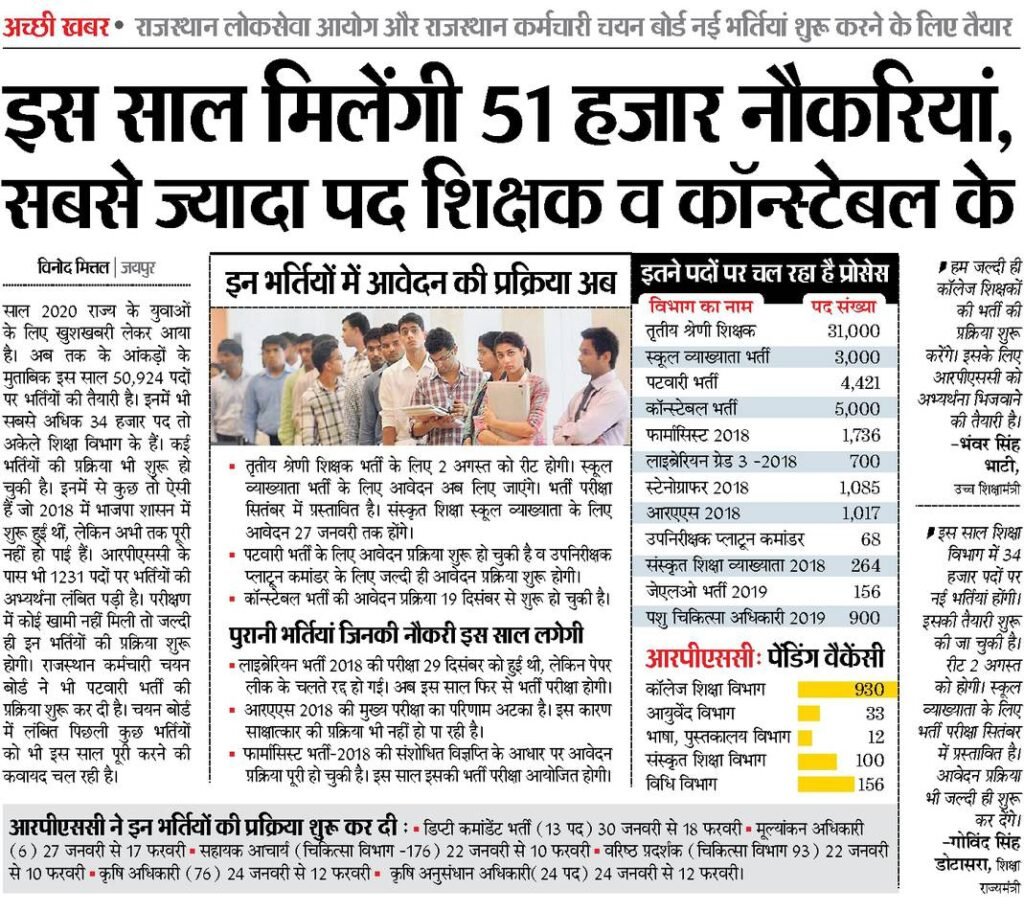 Jaipur Chief Minister Ashok Gehlot presented the Rajasthan budget 2023 (Rajasthan Budget 2023) on Wednesday. In the budget, CM Gehlot announced the recruitment of Government Departments (Government Department) for unemployed youth of Rajasthan (Rajasthan Government Job Announcement). The budget announced 75,000 recruitments in various government departments of the state (Govt. Jobs in Rajasthan 2023). Now, with the issuance of notifications on jobs from the department, other processes of recruitment to the post will commence. These recruitdowns are to be in the state including Department of Agriculture, Department of Revenue, Department of Education, Department of Cooperatives, Department of Health, Department of Higher Education and Home Affairs.
Chief Minister Ashok Gehlot is serious about timely completion of the process of 75,000 recruitment announced in the state budget. Gehlot's direction to expedite completion of procedural recruitment in the Rajasthan Staff Selection Board and early release of new recruitment was held in the CMO on Thursday.
Directs concerned departmental officers:
A meeting was held at the Chief Minister's office on Thursday with the Chairman and Officers of the State Staff Selection Board. The meeting directed the concerned departmental officers to take prompt action in the hurdles and judicial cases under consideration in the context of completion of recruitment. A meeting will also be held shortly in this regard at the level of the Chief Secretary. It may be noted that the Chief Secretary is reviewing the recruitment every month.
Advertisement for 6,790 Posts Released:
The state government has so far awarded appointments to 20,118 different posts in a period of just 10 months. Also, advertisements for 6,790 posts have been issued. In addition, 1260 additional posts have been created as per reservation to most backward classes. Recruitment are also being monitored online at the chief minister's office level. The meeting was attended by officers of chief minister's office, officers of personnel department, chairman of Rajas than Staff Selection Board, Dr. B. L. Jatawat, Secretary Mukat B. Other officials including Jan gar were present.
Increasing suicidal tendencies due to depression:
Chief Minister Ashok Gehlot stayed in the CMO for about five hours on Thursday evening. He met various officials and public representatives. The Chief Minister released a poster on prevention measures on suicides prepared by the Psychiatric Center, Jaipur on the occasion of World Mental Health Week-2019. The Chief Minister appreciated the effort of the Psychiatric Centre, Jaipur and said that the tendency to commit suicide is increasing due to depression in modern lifestyles. Such efforts can be effective in making people aware of prevention of suicides. Speaking on the occasion, Unit Head Prof. of the Department of Psychiatry, Sawai Mansingh Hospital. R.K. Solanki and other doctors were present. Government Job Notification